Lesbian Visibility Day is a day that recognises, celebrates and supports lesbian women to be themselves at work, home and socially. This is a day to show solidarity with every woman in the LGBT+ community and be a voice for the empowerment of all women.
Recent studies have shown that women are twice as unlikely to be 'out' in the workplace as their gay male colleagues. Most citing fear of sexual harassment from colleagues, fear of derogatory comments and an impediment to their career aspirations.
Sgt Beth Wickham-Thomas, Police Service NI LGBT+ network chair comments on what Lesbian Visibility Day means to her:
"What is visibility? I have been pondering that question this week and often I find that I chastise myself for not being a good enough lesbian, which is of course nonsense! For me my visibility is living my life truly and authentically. The main reason I became involved with the LGBT+ Network was because I did not see myself reflected in its ranks, so instead of looking for someone to do that I decided to be the person I needed to see. I by no means consider myself a role model but in truth everyone has the potential to be a role model even if it is just to one person.
Lesbian visibility throughout history is hard to trace as women in history have quite often been invisible. So this day is also a celebration of women and in this case those who identify as lesbian, a gay woman, queer and this is not exhaustive.
I was 15 when, in 1997, Ellen DeGeneres came out publicly on her sitcom. It was the first time I had seen a lesbian on TV, there was at first celebration and then a massive backlash but for me this was brave, it was marvellous and for the first time I felt validated. It would be another few years before I took that step but that moment was a turning point for me and although times have moved on so much since then I still get emotional when I see a TV programme with a lesbian character or even when Renault's latest advertisement had a love story with two women.
So the conclusion I have come to is when you can be yourself, your whole self, be open at work, to be supported by that job, to be who you are, then the rest of your life can flourish. You don't need to wear a badge or T-shirt to be visible, you just need to be your authentic self".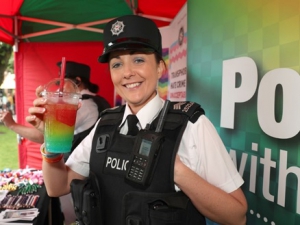 Constable Belinda Dodsworth, PSNI LGBT+ member comments:
"Even though I knew I was a lesbian from an early age, there was little or no positive representation of lesbians in the mainstream media when I was growing up. Lesbian visibility is important to help take away any stigma that gay women feel when coming to terms with their sexuality. Diverse teams perform better; it has been measured and proven. When everyone can be themselves without fear, without compromise, we have stronger connections with our internal colleagues and external communities. Lesbian visibility empowers all women, as being true to yourself at work makes you stronger and more resilient. All allies should celebrate and support those who have chosen to be truly themselves at work".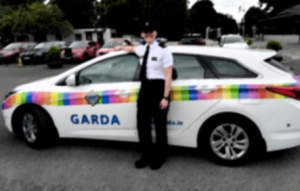 Sergeant Morena Wickham-Thomas, LGBT+ Committee member discusses the need to reclaim and empower language:
"I hate the word 'lesbian'. It makes me cringe. I grew up with the word 'lesbian' being an insult, its connotations for me are hurtful and unflattering. The word manages to make you an object, dismissing you as a mere stereotype. 'Lesbian' has become weaponised for me and as much as I try reclaiming it is incredibly difficult to do so. Like, seriously, has anyone ever heard the word 'lesbian' used in an affectionate way? 'You're a lovely big lesbian so you are' No! No-one means anything nice when they call you a lesbian, it's not empowering, it sounds like a contagious disease, or some affliction that you would probably find yourself in group therapy for. BUT- the world has changed, in theory at least, lesbian visibility in mainstream culture has never been higher, with high profile role models like the Metropolitan Police Chief Cressida Dick, Scottish conservative leader Ruth Davidson, and Megan Rapinoe, Captain of the USA team and Ballon d'Or Feminin winner, and words are now being reclaimed- in part as a younger, more militant, queer generation demands acceptance. Visibility is not acceptance, but it is a step to normalisation, recognising someone's sexuality without having to invalidate anyone else's. We have a responsibility, I have a responsibility, to the next generation to keep pushing for more, more inclusivity, more representation, more normalisation and less words used to cause hurt. If I own it, it can't hurt me, I am a lesbian…so I am".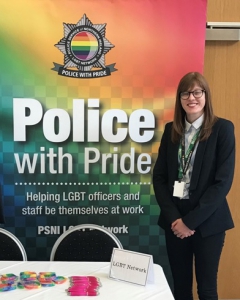 **Some names have been changed to protect officer's identities.
/wp-content/uploads/2020/07/Lesbian-Visibility-Day-Logo.jpg
500
500
Scot Anderson
/wp-content/uploads/2022/07/logo2022.png
Scot Anderson
2020-04-26 00:01:40
2021-02-19 11:10:18
Article | Lesbian Visibility Day 2020 - PS Northern Ireland