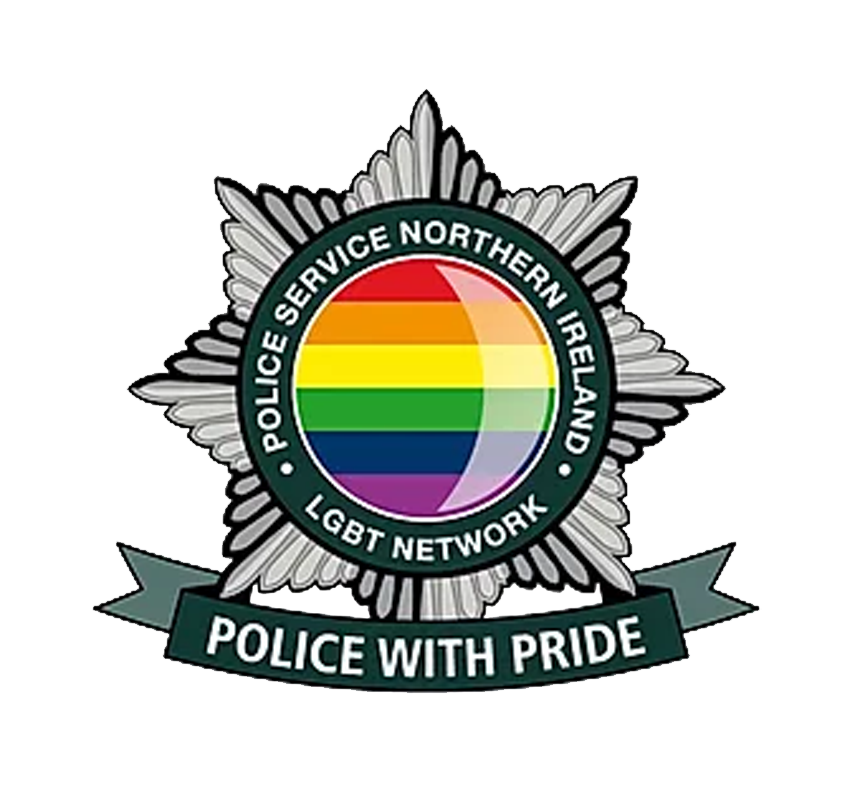 We are the staff association for Lesbian, Gay, Bisexual and Trans Police officers in Northern Ireland. We were formed in 2003 as the Gay Police Association. In 2017 we rebranded as the Police Service of Northern Ireland LGBT+ Network to reflect our values of diversity and inclusiveness. Our aim is to help every LGBT+ staff member, whether they are Police Officers or Support Staff, feel that they can be their true self at work. We believe that if Police officers and staff are able to be themselves then ultimately we do a better job.
We want to be a voice for officers, staff, and the LGBT+ community within the Police Service of Northern Ireland. We aim to help our senior leadership transform organisational culture and create an inclusive atmosphere that permeates throughout the entire organisation, making the Police service a better place for LGBT+ employees, we believe this will make the service better for everyone.
We also want to be representative of the community and improve trust in the Police amongst LGBT+ people. We engage with the public at events such as Belfast Pride, Newry Pride and Foyle Pride, encouraging attendees to report hate crime, and showing the wider community that the Police service does indeed value and care about the LGBT+ community. We know that young LGBT+ people are more likely to self-harm or be bullied, so by putting ourselves forward as role models to those young people, we show that you can be Gay or Lesbian and be in the PSNI, Trans+ people are welcome and being bisexual is not a barrier to joining the service.
We provide advice, support and assistance to our organisation and staff in all matters of equality, mainly dealing with LGBT+ matters. We are primarily a support network and we endeavour to provide support each other.
We are also part of the UK National and European Police LGBT networks. Being affiliated with these networks helps us form strong links with other Police services and partner agencies, which enables us to learn from others and ensure our policies and procedures are current best practice. We have attended conferences in Manchester, London, Dublin, Paris,  Amsterdam and Toronto, engaging with colleagues from other Police services from all corners of the globe. We also enjoy excellent relations with our colleagues in An Garda Siochana, including joint social events and training.
We adopted a Co-Chair structure, both Chairs must be of different identifiers so that wider sets of views are represented in decision making.
Our committee is diverse and has representatives from across the LGBT+ spectrum, with lesbian, bisexual, gay, asexual and other identifiers represented. One area we are sadly lacking is representation from the trans community. We would encourage anyone from the trans community within our organisation to engage with us, as we are keen to have those views represented within our service.
We have achieved much in the past few years by furthering the representation of LGBT+ people within the service and raising the profile of LGBT+ community engagement. This had a positive effect on community perceptions of the police which led to increased numbers of LGBT+ people seeking to join the organisation and also an increase of LGBT+ reports of hate crime.
The Co-chairs aim to continue developing our network and supporting LGBT+ officers and staff in any meaningful way we can. 
We would encourage all members of the LGBT+ community within the PSNI family and those that are friends and allies to the LGBT community to become involved in the LGBT+ Network. Help us make our network better for everyone. There are no fees and membership is open to all serving Police officers and staff regardless of sexuality or gender identifier.  Please get in touch if you would like to join us and stay up to date with details on Social Events, Conferences and training opportunities. We look forward to hearing from you.
---
---