Today is the International Day Against Homophobia, Biphobia and Transphobia or IDAHOBIT for short. It is a day when organisations across the world aim to raise awareness of issues faced by LGBT+ communities worldwide, which in turn provides an opportunity to engage in dialogue with the media, policymakers and wider civil society.
The date of 17th May was chosen as it was on that day in 1990 when the World Health Organisation removed homosexuality from their disease classification register. This was a turning point for the LGBT+ community as it signified a shift in the perception of LGBT+ people from being an aberration to an accepted part of the human condition.
The PSNI LGBT + Network have chosen to mark the day by celebrating the non LGBT people who have supported the LGBT+ community and their colleagues, our allies.
Constable Paul Bloomer, Co-Chair of the LGBT+ Network, said: "An ally is a non LGBT person who supports people from the LGBT+ community, in fact over half of our network members are allies. From time to time our network allies have asked us how they can better support their LGBT+ colleagues and what is expected of them. We wanted to give a set of simple points so that anyone joining our network could understand what being an ally means. We worked with Stonewall to create our 'Five Point Allies Pledge' which we hope will give our network members some of the tools to be a better ally. We will be hosting more resources on our Point page to help better educate and guide anyone seeking to further their knowledge with regard to LGBT+ issues; we aim to have our new Point page up and running in the coming weeks."
"Allies can be an important bridge between communities, by empathising with the struggles of one minority and expressing the need for change to the majority. The impact of hate crime on the LGBT+ community is an important part of IDAHOBIT day and our allies have a crucial role in helping to create an environment where the LGBT+ community feels that they have the confidence in their police service to make reports of domestic violence, hate crime or other incidents affecting the community. Allies who follow our 'Five Point Allies Pledge' will help build the safe space and confidence required to encourage reporting of these incidents."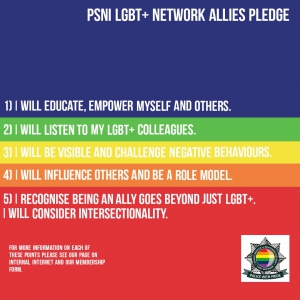 The LGBT+ Network reached out to some of their ally members to hear what being an LGBT+ ally means to them.
Assistant Chief Constable Tim Mairs stated: "For me, being an ally has been about listening to colleagues and their experiences. I have benefitted so much from getting to know members of our LGBT+ Network and, in so doing, I have learnt a lot about myself but also about how important it is that we have an organisation that welcomes and encourages diversity. But it's also about being a visible support to network members within the organisation, standing alongside them and challenging hate, bias and ignorance."
David Johnston is Head of Equality, Diversity and Inclusion. Commenting, he said: "I am genuinely delighted to be considered an ally to family, friends and work colleagues who are LGBT+.  I truly believe that everyone – irrespective of gender identity, sexual orientation or other characteristic – should be supported and encouraged to be themselves, both at home and in work. This has positive outcomes for both the individual and the organisation. As an ally I am still on a journey of learning how best to support my LGBT+ colleagues however with the assistance of colleagues from our LGBT+ Network I now have an enhanced understanding and appreciation of some of the challenges experienced by LGBT individuals.  These experiences, some of which include feelings of marginalisation and insecurity, undoubtedly resonate with others, including other under-represented groups.  For this reason, I consider the role of an ally to be important, insofar as it helps to engage, support and advocate for colleagues whose voices may not otherwise be heard, and I don't wish for anyone to experience loneliness in a crowd."
Constable Andrew Burrows of Case Progression Team in Musgrave had this to say: "What being an LGBT+ ally and wearing a Police with Pride lanyard means to me is that I display support for the LGBT+ community as a whole and I embrace the diverse nature of the service. It lets other persons know that where they see the rainbow and the lanyard they are in a space where they can be themselves. It also lets other persons know that this is an area where discrimination, no matter what form it takes, will not be tolerated. I am very happy to be an ally of the LGBT+ community and it has helped me to educate myself on issues of gender identity and made me much more open to diversity, not only in the workplace but in society as a whole."
Vice President of the National Black Police Association, Detective Inspector Andy George, said: "Allies have always been instrumental in the fight for rights. In the famous 1963 civil rights march in Washington DC where Martin Luther King gave his 'I have a dream' speech, around 95,000 of the 250,000 people attending were white. While black and minority ethnic people were the most important voices in this struggle, these allies helped popularise the cause of equal rights. Everyone in the police service and wider society deserves to be treated on a fair and equal basis. We stand with the LGBT+ Network as an ally on making the Police Service NI a fairer workplace for all. National Black Police Association (NBPA) and Ethnic Minorities Police Association (EMPA) members being LGBT can mean there is discrimination from both inside and outside the black and minority ethnic (BAME) and LGBT communities. It is important to recognise intersectionality in diversity and staff associations must work together to ensure everyone has a voice in policing and feels valued."
/wp-content/uploads/2020/07/IDAHOBIT-Logo.jpg
500
500
Scot Anderson
/wp-content/uploads/2022/07/logo2022.png
Scot Anderson
2020-05-17 09:00:05
2023-08-08 22:17:09
PSNI LGBT+ Network Launch Allies Pledge on IDAHoBiT