Together: Resisting, Supporting, Healing
When writing this Blog I wanted to reflect on what IDAHoBiT means to me as police officer. I joined policing in 2004, the same year this day was created and first celebrated.
When joining the police as a gay woman I didn't see a need for me to join any staff associations or networks, I was blinkered to the diversity of LGBT+ outside of my own circle of friends so now as Co-Chair of the National LGBT+ Police Network, I recognise the responsibility and need to stand up and be heard for those that are not in a position to do so.
I look to my role as a police officer, an aspect of the Oath I took back in 2004 was to Prevent offences against people, in the case of IDAHoBiT, offences motivated by hostility or prejudice of a person's sexual orientation or gender identity or perceived sexual orientation or gender identity. I consider what is my influence on this?
I consider the historically poor relationship between the police and those who identify as LGBT+. My role and that of my predecessors is to make change and to improve this situation. I want to help create that trust and confidence in the police so all are confident to approach a police officer if they are a victim of Domestic Abuse, Sexual Abuse or Hate crime.
My role and that of my predecessors is to create opportunities for that trust and confidence to grow. I do this firstly by challenging those leaders in UK policing, encouraging them to see and think about how the decisions they make affect our communities or diversity in the police service. This is to effect positive change in policy and procedure and to remove bias where it may exist, consciously and subconsciously.
I then look outside of the police and how to reassure all under the LGBT+ umbrella they can have confidence in UK Policing. What do I do as an individual?
I wear my rainbow epaulettes, I use my social media accounts to support days of recognition and highlight the good work we are doing. I continue to report to the social media platform holders any harmful comments. I identify which could cause harm and of course I will report anything I consider constitutes a crime. I proudly walk in my uniform in a pride parade; this is my identity and I am proud of my uniform. By bringing my whole self to work, and consistently raising issues and pushing for positive change.
Taking all this into account I look to this year's theme of Together: Resisting, Supporting, Healing. Together with my colleagues across the country and with 3rd party organisations I will resist those who wish to cause harm to our diverse communities, We will support and safeguard those who need it striving for the changes needed at all levels. Finally I will continue to work to heal the rift between various individuals and groups of individuals whose trust we need to build. The first action towards this is the Network's Intersectionality working group from whom the national network will use to educate ourselves and create a deeper understanding of the needs of our larger LGBT+ family.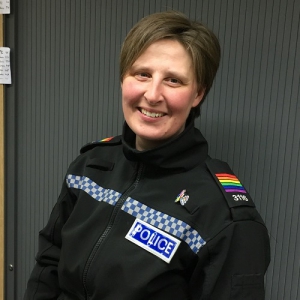 Written by Police Constable Amy Tapping, Co-Chair of the National LGBT+ Police Network.
You can find more information about PC Tapping in the 'Our Leaders' area here.
/wp-content/uploads/2021/05/celebrate-the-power-of-love1-673x1024-1.png
500
500
Scot Anderson
/wp-content/uploads/2022/07/logo2022.png
Scot Anderson
2021-05-17 00:00:53
2021-05-14 11:48:26
Blog | International Day Against Homophobia, Biphobia & Transphobia - PC Amy Tapping