It's IDAHoBiT, the day when the LGBT+ community and our allies the world over come together to stand against Homophobia, Transphobia and Biphobia. I'd invite anyone to look at the many positive messages Police Services and Criminal Justice agencies all across the UK are putting out on IDAHoBiT, this isn't cynical box ticking, it's part of a genuine effort to reach out.
This year the theme is, Together: Resisting, Supporting, Healing. Reflecting on this theme led me to look back on the past 15 months, at how the pandemic exposed some of the deepest divisions in our society, while the murder of George Floyd by a police officer drew out righteous anger from Black, Asian and minority ethnic communities across the globe. At home, LGBT+ people saw great strides forward, with Marriage equality finally being granted to those in my own country and commitments from the Northern Ireland Assembly to ban conversion therapy. While progress is always welcome I can't help but recognise that within some Black, Asian and Minority ethnic communities mistrust towards police has deepened, also many trans people within our community struggle to access healthcare, while reports of Transgender hate crime have increased sharply in recent years, and yet we know that many incidents still go unreported.
Most people won't think twice about calling police if they have been a victim of crime or to report an incident, however for many people from marginalised communities such as Black communities and trans people, the thought of speaking to a police officer can bring about feelings of anxiety or even fear.
Not being able to engage with Police, means that these crimes not only go undocumented but crucially those victims never get support from the criminal justice system, nor any semblance of the justice a victim of crime deserves. There are fantastic 3rd party reporting and hate crime advocacy schemes such as those run by Citizen's Advice, Stop Hate UK and here in Northern Ireland, the Rainbow Project. These amazing schemes aim to help people report the hate crime they are suffering without having to engage directly with Police at the onset. While it's great that these schemes exist, they don't preclude police from making efforts to build trust with those marginalised communities, in fact it's more important than ever for police to do just that. Myself and the vast majority of us within policing acknowledge how important it is, that those of us in Policing do all we can to reach out to marginalised people including taking innovative and novel approaches to specific communities in order to help them feel safe, secure and empowered with the knowledge that we will stand up to protect them from hate, and that where they are victims of hate, we will do all we can to bring the offenders to justice.
Policing is not a static, immovable institution, policing is constantly evolving and changing alongside society, with many police services having whole departments devoted to innovation and change. Policing today is vastly different to how it was 40 years ago and almost unrecognisable to the 40 years before that, nowhere is that change more obvious than in my home country. It's so important that as we grow and change, the voices and lived experiences of marginalised people are heard and understood by those who are able to drive that change.
This brings me back to the theme of this year's IDAHoBiT, Together: Resisting, Supporting, Healing. For Police and communities alike we must come together, to try overcoming that which divides us, and work to make policing better by driving that positive change, so that those most vulnerable to hate crime, have the access to justice that everyone in our society is entitled to. We must resist hate crime together, supporting one another and ensuring that victims of crime can have the healing that can be achieved by obtaining support and justice.
On this day, which for me has always been about standing against hatred, I call upon my colleagues to continue those efforts to reach out and engage with marginalised communities, this means for us to be prepared to listen, be open to change and open to challenges from the communities we serve, while being resolute in our duty to protect people from harm. For those communities who have mistrust or doubt in Policing, I ask you not to suffer hate alone, please report it to us. Please engage with your local police officers, engage with your local Police and Community Safety partnerships and tell us what you need so that we can serve you better. Please challenge us to do better and work in partnership with us to help keep you safe. Please give us the chance to help you, protect you and support you.
We must acknowledge the very real historical and current difficulties between Policing and some marginalised communities. We must overcome these together, because if we don't we cannot make progress, people will continue to suffer hate crime and not have access to justice. We may never be able to drive out hate completely from our society, but I have seen that when communities, police and partner agencies work together, we can make hate incidents an extremely rare occurrence rather than a daily fact of life for some people. We can't do that without our communities on board to help.
Nothing will change if we all stay the same. We all must change and grow for the betterment of all. It will take real effort on all sides but I believe that together; resisting hate and supporting each other can lead to healing.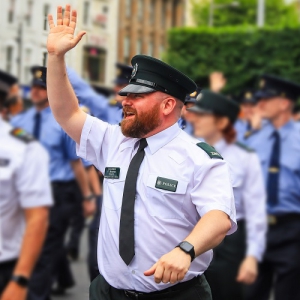 Written by Police Constable Paul Bloomer, Co-Chair of the Police Service NI LGBT+ Network & Regional Representative.
You can find more information about PC Bloomer in the 'Our Role Models' area here
/wp-content/uploads/2021/05/celebrate-the-power-of-love2-698x1024-1.png
500
500
Scot Anderson
/wp-content/uploads/2022/07/logo2022.png
Scot Anderson
2021-05-17 06:58:41
2021-05-17 06:58:41
Blog | International Day Against Homophobia, Biphobia & Transphobia - PC Paul Bloomer