I joined the Police Service of Northern Ireland in 2010, and at the same time joined the Gay Police Association NI, (GPA). I went to few meetings, and in 2014 took a spot on the committee, mainly because no one else would. I never felt like the association was out to drive change or that it was truly inclusive, there were no women on the committee, no Bi people, no trans or non-binary people, it was more like a luncheon club for gay men. Meetings were held in people's houses not in Police stations, there was a feeling of cynicism regarding what the association could achieve. I knew that it had once stood for something but the people who had been passionate about driving positive change had all either burned out or left. There were still good people in the GPA-NI but motivation and energy was so low. The UK National GPA collapsed in 2014, after years of poor management. However, the GPA in Northern Ireland limped on.
I remember a flurry of emails coming in throughout 2015 about forming a new UK wide network of Police LGBT+ staff associations. I never engaged, "what's the point", I thought. I was cajoled into attending the launch of the new network in Manchester on the 28th August 2015, it coincided with Manchester Pride, "at least I'll get to see my mates in Manchester" I was thinking.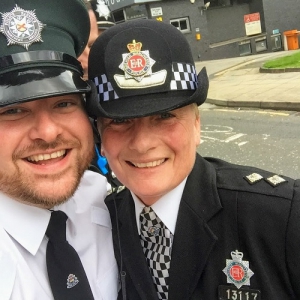 I remember turning up at the conference venue, the first thing I saw was a Police car done up in a Rainbow livery, I had never seen this before and I thought it was wonderful. I got inside and the venue was bedecked in Rainbow flags and Sillitoe tartan, there were Police from all across the country. I got talking to those officers and I could feel the passion and excitement in them about their jobs and staff networks, I had never seen Police officers like this before. I'll never forget meeting Inspector Jacqui Prest, her energy and passion about Police being in Pride and the power of staff networks to support and empower people completely captured me. She handed me a set of rainbow epaulettes, which now are in the Police Museum at PSNI Headquarters. I had never seen items of Rainbow Police uniform before, I was blown away. I listened to speeches throughout the day, hearing the care and passion from people like Tracy O'Hara, talk about supporting and empowering LGBT+ officers and staff. At the front of the stage were massive letters spelling out 'POLICE WITH PRIDE'. I started to get an idea what was going on elsewhere, I heard stories about how empowered LGBT+ officers were making a difference in their organisations, how they were driving positive change for staff inside policing and delivering better outcomes for their communities. I saw people who were not just 'ok' with being 'out at work' but were positively beaming with empowerment and passion for their jobs, serving our communities with pride. I heard talks about how being your authentic self in work empowered people, and that empowered people who were supported in their workplaces were less likely to suffer from stress, less likely to go sick and more likely to perform better. Later that day there was a break, representatives from LGBT+ charities and community groups were there, I talked to them about how they were engaging with Police, which was totally different to what we were doing. One of the community members saw the rainbow epaulettes I had been clutching and told me how they loved seeing Police wear them, and how seeing Police make that gesture made them feel safer around police. I left the conference, my head was buzzing, racing with thoughts. I felt everything from excitement and empowerment to regret and shame at my own cynicism.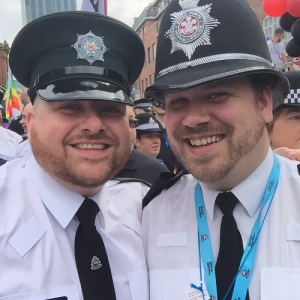 The following day we met at the same venue, this time we were going to march in Manchester Pride in uniform. We had obtained permission from our Deputy Chief Constable to do so, but at the time it never dawned on me the significance of it, we would be the first ever Police Service of Northern Ireland officers to march in a Pride Parade in uniform. As we paraded through the city, people were cheering their Police. I had never experienced anything like this, I've been spat on, beaten, abused and demeaned while wearing police uniform but never celebrated or cheered. A saw a woman in the crowd toward the end of the march, she locked eyes with me and started to cry. I went over and spoke to her, she told me her story, she was from Northern Ireland, she had left because she had been rejected by her family for being a Lesbian and felt that she could never be herself in NI, as it was too hostile for LGBT+ people. She told me that she grew up in a Police family, but none of her family had anything to do with her because of her sexuality. She came to Manchester looking for acceptance and community. She told me seeing the green PSNI uniform in a pride parade affected her deeply and made her feel that some positive change was possible at home, that maybe people like us were accepted.
That conference, the parade and the interaction with that person profoundly changed me. A fire had been lit inside me that still burns today. I felt empowered and transformed. My whole perception of what my uniform meant to me shifted from it being just 'work clothes' to being something truly special and meaningful. I had an energy and passion that wasn't there before. I knew if I wanted there to be positive change back home, the first thing that had to change was me. I wanted my colleagues to feel the empowerment and pride I did. The two other colleagues that were with me were also greatly energised by the experience, however both left the police through retirement within a couple of years.
In the seven years since that fateful weekend, I have worked hard along with others, like my amazing Co-Chair Beth, to help bring about positive change in my own Police Service. We reformed the GPA, which had 38 members into a modern inclusive LGBT+ staff network with now over 500 members, many of whom are allies, I'm so proud more of my colleagues are able to be their authentic selves at work. The PSNI now marches in Pride in uniform, every year, as part of our regular business. Recruitment from LGBT+ people has dramatically increased. We were once a Police Service where you were told to, conform, assimilate, "be the grey man" and "dry your eyes". We are now an organisation with a people strategy which states, "Our ambition is greater than being representative alone; it extends to being an inclusive organisation where everyone feels welcome, are treated with dignity and valued as their authentic selves, and are confident to share their perspectives and ideas." I'm so proud of the progress we've made in Police Service NI and as a staff network. I'm proud to have played a small part in it. I'll never forget, that journey started with being handed a set of rainbow epaulettes in Manchester. I've come a long way since then, I've changed a lot.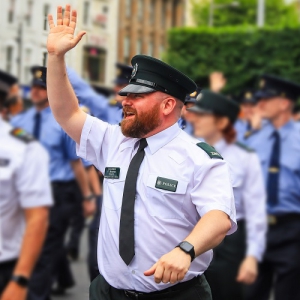 I will continue to walk in Pride. I will continue to be visible as an empowered Queer Police officer to show everyone that you can be LGBTQIA+ in the Police and that being different isn't a curse, it's a gift. I do it to show our community and other marginalised communities that society's institutions like the Police belong to them, as much as they do to any other section of society and that we as LGBT+ people have every right to take our place in those institutions, because institutions that are representative and reflective do a better job serving and protecting all those in society. I'll continue do it because somewhere, there is a young person who hates themselves because they are struggling with their sexuality or gender identity. To anyone like that who is reading this please know, you are who you are meant to be, there is nothing wrong with you. Let no one else define who you are. Let no one put you down. The best thing in life you can be is the truest version of your authentic self. Being true to yourself makes you shine and when you shine, that light can be a guide for others to follow. You are meant to be seen, you are meant to celebrated. Be proud of who you are.
Written by Police Constable Paul Bloomer, Co-Chair of the Police Service NI LGBT+ Network, Regional Representative and National Comms Lead.
You can find more information about PC Bloomer in the 'Our Role Models' area here
/wp-content/uploads/2022/02/Manchester-Pride-2.jpg
500
500
Scot Anderson
/wp-content/uploads/2022/07/logo2022.png
Scot Anderson
2022-02-17 11:52:49
2022-02-17 11:53:40
Blog | The moment it all changed for me - PC Paul Bloomer